The Palm Mission Board seeks to spread the Good News of Jesus Christ by serving God's people in real and tangible ways and by educating the congregation of Palm Schwenkfelder Church on the needs of those residing in our community and world so that we might better serve them in love.
Our congregation supports:
Open Link – regularly collecting and donating non-perishable food items
Chester County Migrant Ministry – collecting blankets and personal care items
Relay for Life – Palm Schwenkfelder Relay Team raises funds for cancer research on behalf of the American Cancer Society
Schwenkfelder General Conference (Mission Board)
Our Church's Wider Mission (United Church of Christ)
Phoebe Home in Allentown and Richland
Advanced Living Communities (Schwenckfeld Manor)
We also support these special offerings of the United Church of Christ:
One Great Hour of Sharing  – supports Disaster Relief and Development work around the world
Neighbors in Need  – supports Justice and Witness Ministries and the Council for American Indian Ministries
Our Church's Wider Mission  – supports
Strengthen the Church – funds new church starts and invigorates existing congregations
Christmas Fund – supports retired clergy and church employees who have difficulties meeting increasing living costs
We support three children through Common Global Ministries of the UCC
J. Vignesh—India
Rita Arabian—Armenia
Taurai Sithole—Zimbabwe (Africa)
We also have missionary relationships through Common Global Ministries of the UCC with:
Martha Mensendiek – Doshisha University, Japan
Jeffrey Mensendiek – Sendai, Japan
Rev. Jeanette Salley – formerly served in Haiti (2011-2013) and began serving in Guadeloupe in 2014
Judy Chan – Hong Kong
We have had the privilege of having Martha, Jeanette and Judy visit and share with us their experiences of participating in God's work in these areas of critical need.
We also have a European Christian Mission
Dr. Drake Williams, III – Tyndale Theological Seminary in Amsterdam, Netherlands
Drake visits with Palm Church each summer to share his experiences.
We have supported members and friends of our congregation who have participated in mission experiences by taking Mission Trips.  The Palm Mission Team has served at these Mission sites:
A Future Hope (2014)- Long Branch, NJ partnering with Lutheran Social Ministries of New Jersey our mission team assisted underprivileged in their continued attempts to recover from Superstorm Sandy of October 2012.
Heifer International Project Farm (2013) – Rutland, MA–The team learned about the process Heifer uses to help people in non-industrialized nations and poverty areas of the USA through sustainable solutions and how to use the process and live sustainably in our own community.
Back Bay Mission (2010, 2012) – A mission of the UCC in Biloxi, MS serving the poor and homeless in Biloxi, Veteran Ministries and disaster relief work following Hurricane Katrina
Flood Relief Work (2011) – Nashville, TN in partnership with United Methodist Church Disaster Ministries
Palm's mission teams would like to thank the Church of the Savior in Knoxville, TN for providing us with housing during our trips in 2010, 2011, and 2012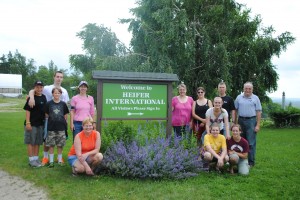 Our Church's current mission projects are announced in our weekly bulletin, our monthly newsletter, as well as will be highlighted here on our website's News and Special Events pages.