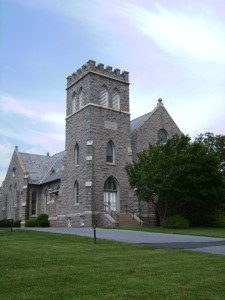 Our Church, built in 1911, has a beautiful sanctuary.  Additionally we have a two story Sunday School wing with multiple rooms which was built in 1964.  Below the sanctuary and accessible via stairs or a stair glide is our Fellowship Hall which holds up to 160 individuals with a full kitchen adjacent.
As the Church schedule permits,  private individuals, families, and groups can request to rent church facilities for appropriate functions such as weddings, bridal showers, family reunions, funerals, recitals, etc.  Please see our Building Use Form and our Church Use & Fees.
Palm Schwenkfelder Church owns four cemeteries and two Meetinghouses.  The largest and newest cemetery is located adjacent to our Church.  Some information about this cemetery can be found at Find A Grave.  Additionally there are cemeteries at Hosensack Meeting House, Kraussdale Meeting House, and at the site of the former Washington Meeting House is the Washington Schwenkfelder Cemetery.  Contact our church office, 215-679-5321, about purchasing or for internment in our cemeteries. Individuals and families who have rights or believe you have rights to a grave in our cemetery should contact Tom Long, 215-679-8705.